Arab youth arrested at COP; Canadians confront Kent
An hour ago, two members of the Arab Youth Climate Movement were  arrested. They held up a banner in the COP18 conference centre that read, "Qatar, why host, not lead?". Onlookers erupted in cheers as they were escorted out. In their wake, the mood was sombre. The process at COP is failing, the deal on the table is not an ambitious one. The brave action of these young men is getting them deported from the country.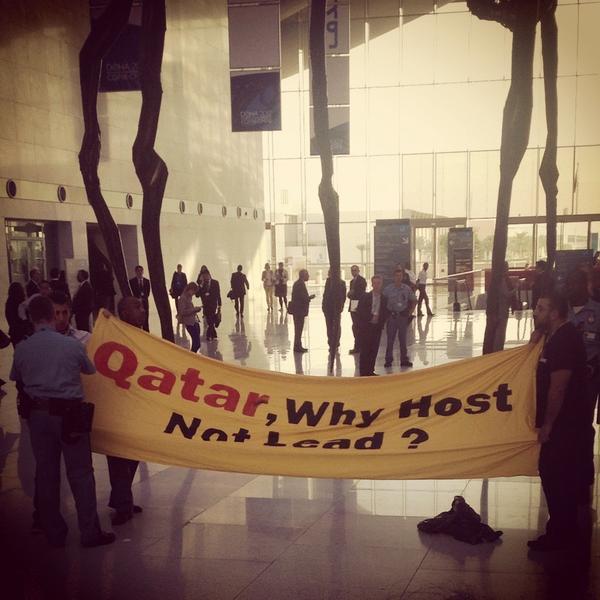 All day, security have been eyeing us, the youth. Following us. There have been a series of sanctioned actions, led by young people whose demands for a secure future are increasingly ignored in the plenary halls.
For the first time ever, the Canadian Youth Delegation met with Environment Minister Peter Kent. Though we have requested meetings in past years, this was the first time it was granted. Other climate organizations, who had also not previously been refused meetings with Kent, attended. Collectively, we presented statements from constituencies that the Environment Minister of our country needs to hear from.
These are not voices he has formally heard from. In the past eighteen months, he has had 54 meetings with oil and gas industry lobby groups, and only four with environmental groups, none of them climate-related. We shared the voices from First Nations, workers' unions, the U.S., the Maldives, Canadian youth, the Philippines, and faith groups. We delivered close to a thousand tweets (#askKent) from concerned citizens demanding clarification on Environment Canada's inadequate policies.
After we spoke, Peter Kent talked for twenty minutes. The feeling in the room was dismay and depression. We were dozens of Canadian students, workers, scientists, and leaders who had travelled to Qatar, hoping for Canadian leadership, or at least less obstructionism. There were no words that inspired hope from the government in that meeting.
Climate change is the single biggest issue facing our world right now. We need meaningful action from our governments, and we are not seeing it.
I admire the bravery of the members of the Arab Youth Climate Movement, and support them. They are right to be indignant. I am indignant. The executive secretary of the UNFCCC, Christiana Figueres, asked the youth on Tuesday during an intergenerational inquiry to get angry and demand change. We are angry, and we are demanding change. Today's peaceful ask was met with arrest and deportation.
Leaders need to recognize the significance of their actions. COP is closing, and what is on the table is a bad and inadequate deal for everyone on this planet. No more empty words. It is time for meaningful action.
Video: AYCM activists arrested.